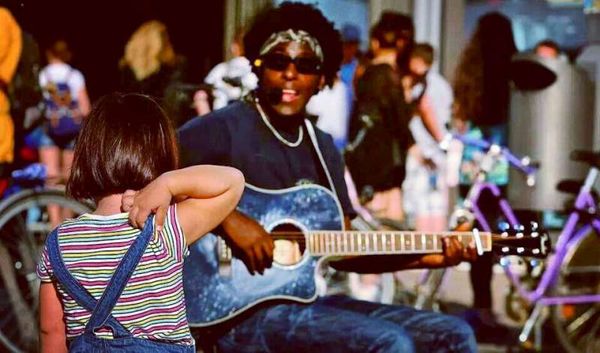 Ryan busking at Alexanderplatz in Berlin as a young girl watches in awe. Photo by Wolfgang Stegherr
Ryan Koriya aka I See Hearts, is a British Zimbabwean singer-songwriter and film composer who has spent the best part of the last decade living out of a suitcase. Armed with a guitar and fueled by stubborn ambition despite his lack of financial backing or a fixed home, he built his musical dream by performing solo in a dozen countries multiple times a year, spanning four continents! He achieved all this without any management or industry representation. 
Ryan has busked in England, Ireland, Scotland, America, Denmark, The Netherlands, Belgium, Australia, New Zealand, and he has played gigs in many other countries.
Performing at all kinds of concerts and festivals, he credits busking as his super weapon that kept his music alive throughout the 'difficult' times. Which is why in late 2020, he's confident enough to take to online busking from Ibiza, during the current global pandemic that's brought the international live music industry to a screeching halt for the foreseeable future.
Ryan tells us a bit more about his race to acquire Spanish residency before the December 31st Brexit deadline. At this difficult time for most, he aims to inspire other artists the world over. To empower others by sharing how he's using 'online' busking to help fund his immigration process and more. 
"Ryan does this amazing smokey poly-tonal thing with his voice! Really hypnotic. I love it!"
- Daniela: Busselton, Australia
"Ryan plays the guitar like a boss, along with the drums at his feet and he sings, all at the same time, all with such passion and ease. He sounds like a whole band!"
- Tom: UK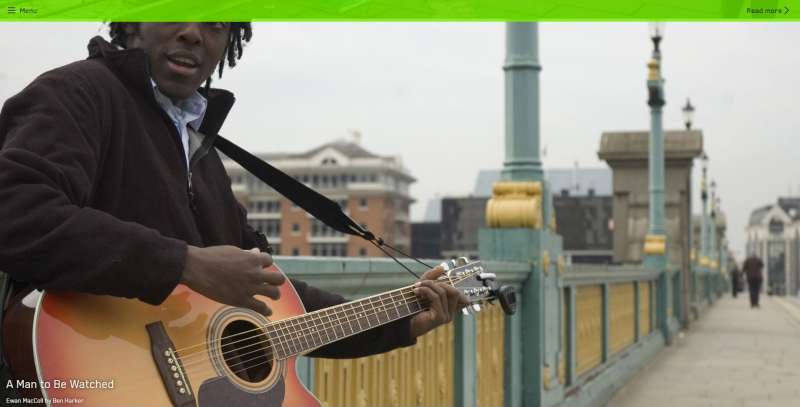 Ryan was one of 100 musicians selected to take part in a Ruth Ewan commissioned arts project all around London in 2007.
Photo by Thierry Bal
The Single Decision that Changed My Life Forever in 2003!
I was petrified! There I was, standing on Rose Street, the quaint pedestrian walkway in central Edinburgh, Scotland. That was the day I busked for the first time, which literally changed my thinking forever. I'd seen a musician busking on Rose Street and couldn't help but think… "that money was not in his guitar case just minutes ago!"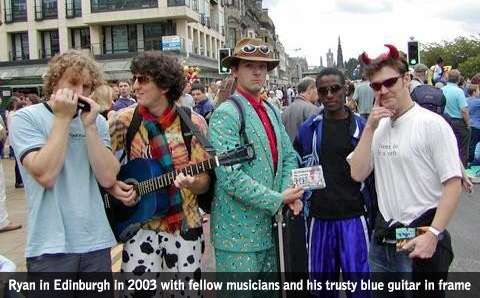 It was during the popular Fringe festival and I had to pay rent the very next day. I also needed to line my empty stomach, but all my mind could picture were the horrible things people would do and say about my musicianship if I tried to blatantly interrupt their day. To sing in public, trying to grab their attention, never mind asking for money in exchange! It was my first few months after leaving my troubled home country of Zimbabwe. I was young and not very confident in myself. I'm so glad that I stepped out of my comfort zone and sheepishly took out my bright blue acoustic guitar then started singing some of my favourite covers.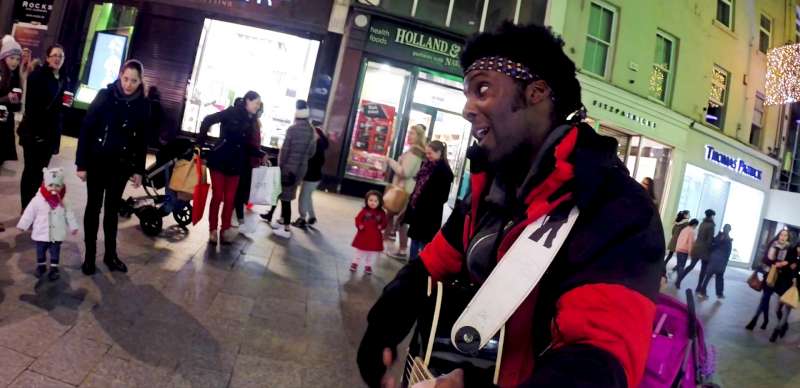 Busking in cold temperatures on Dublin's Grafton Street at Christmas time, after his first Irish shows at Whelans.
Kids all over the world gravitate towards him and love to dance!
To my surprise, the public response was incredibly positive and from then on, my confidence grew. So much so, that I went on to do seemingly crazy things like carpooling from Holland to Berlin with only €20 in my pocket, trusting that busking would carry me through, and it did. Just three days later, I had made enough for a month's rent and could get back to feeding my musical ambitions. Thank goodness for that!
"We broke our usual protocol and booked Ryan on a weekend which is usually a band affair. We're glad we did! What a party! He had the full house in the palm of his hand all night and all on his own!"
- Café Rene: Gloucester, UK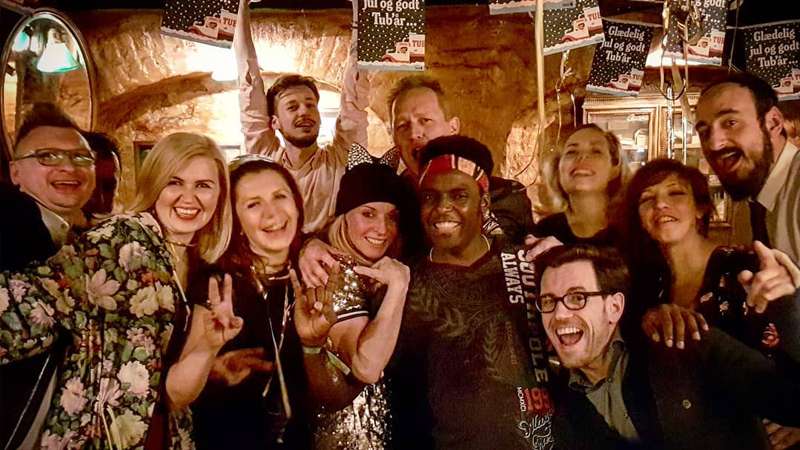 Fun photos with more happy listeners after another 5 hour solo show in Nyhavn, Copenhagen, Denmark
Busking for Spanish Residency in a Digital Age
I haven't busked for a few years but now, like many others, I find myself in a world of annoying Brexit deadlines as I try to make Ibiza in Spain my home. Travelling and touring has become more difficult over time. The financial requirements and living costs are making the settling process quite challenging, so I decided to take to my Facebook and Instagram to stream live, using the hashtag #BuskingForResidency2020 which neatly puts all my sessions in one feed. Plus, I'm performing through the very same Roland Street Cube busking amp I've hauled around the world with me since 2008! Thank you Roland for such a great product!
I'm performing live songs with a virtual Tip Jar for viewers to show their appreciation using a PayPal.me link. For now, I've been able to pay rent for November, even though it was 8 days late. I still made it! So far, I've had tips come in from friends and fans in Spain, England, Ireland, Australia, America, Belgium, The Netherlands, Switzerland, Germany, South Africa and Portugal. Online streams allow music fans and communities who can support artists, to do so safely from their home. It's just brilliant!  That wouldn't be possible 5 years ago.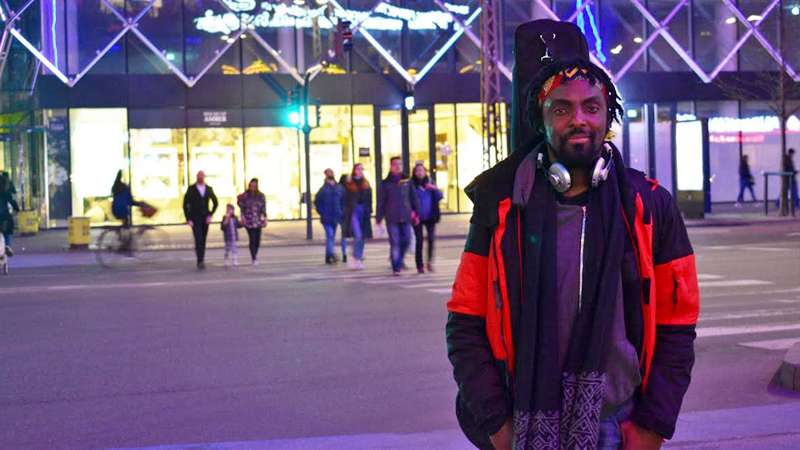 In Central Copenhagen, Denmark on a chilly evening
I just raised enough to pay for my annual moped insurance that I couldn't afford last month. It's a good thing I don't need to commute daily and can perform from home. My next goal is to raise enough for an immigration lawyer and for the rest of my residency process. Spain is one of the most complex bureaucracies I've had to navigate and I have no time to lose.
"We heard Ryan singing from our hotel balcony and just had to go see where this angelic voice was coming from! We are now super fans, not just of his talent but of the genuine, humble, positive loving soul he is." 
- Grant: Melbourne, Australia
"Ryan sings across continents & islands, nations large & small, spreading the gospel of song. His voice is encapsulated with pure joy & freedom of spirit. It was my pleasure to have our paths cross"
- Allan: Auckland, New Zealand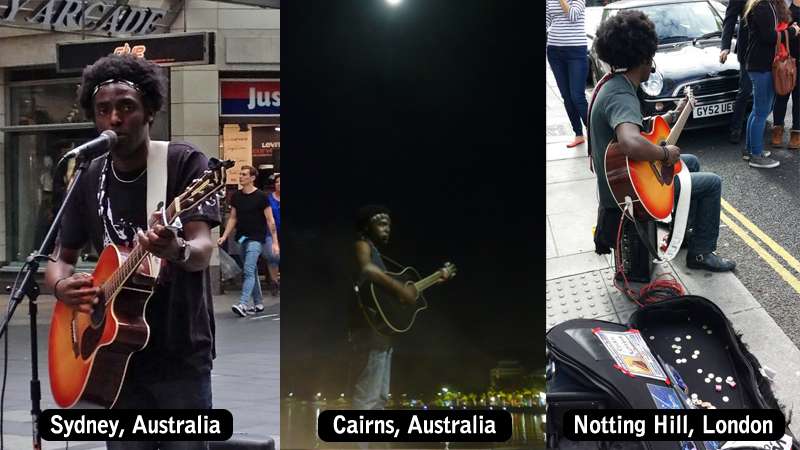 Fan photos of Ryan busking in Sydney & Cairns Australia (Great Barrier Reef) beneath a full moon, & in Notting Hill, London
Surprising Differences Between Online Busking and Traditional Busking 
One of the differences from busking out in public is that most of the online tips I get are more than the few coins and notes that a busker usually gets on average. This past week, people have each tipped anywhere from £2 all the way to £200! Every penny counts and is equally appreciated. Outdoor busking did have people tipping me up to the hundreds but it was not usual and it depended on what type of audience you had and where. 
Another difference with online busking is the benefit of not having to commute with all your gear, like I've done on my own in many countries on four continents, like the crazy man I am! Haha. Finding a good spot at a good time is also a busker's mission in order to make the trip worthwhile. Then there's the weather to think about!
With social media, there is now the possibility to reach even more people from anywhere in the world, at the same time, even when it's raining cats and frogs! Each live session also continues to work for you after you save the video to your feed and your online viewers can re-watch or re-share it in the future. I've tried doing online busking the last couple of years but 2020's crisis seems to have made audiences feel more comfortable tipping artists online.
One of the most important side effects of busking online, is that once you make a new fan, you can keep them in your online community, as opposed to a stranger who tips you as they speed past in a busy London Underground corridor. Probably never to be seen again.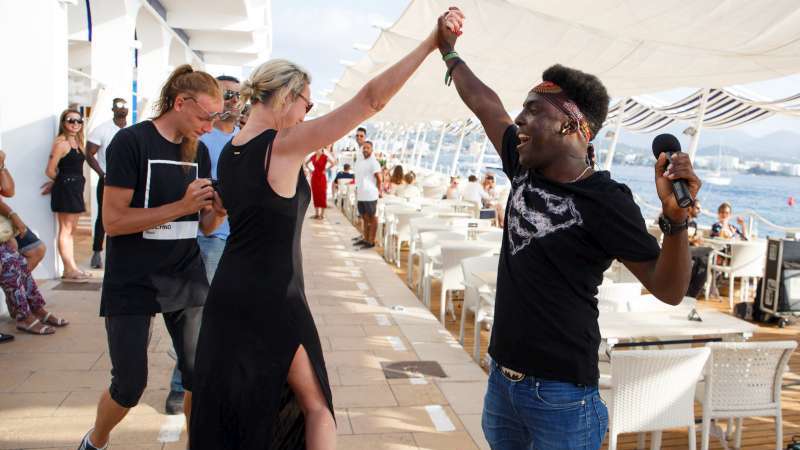 In action performing at Café del Mar Ibiza's 39th Anniversary in 2019 with his full backing band. Photo by Vlad Florut
Digital Busking Hope for Musicians with No Other Revenue Streams
I've written this article in the hope that it may help any artists out there who are currently really stuck, with no other income streams or with no government assistance. If they have a smart phone with a camera and an internet connection, they have nothing to lose by giving online busking a try. There are also busking websites out there that may help if Facebook or Instagram are not an option. Street Jelly and Periscope are a couple I've tried.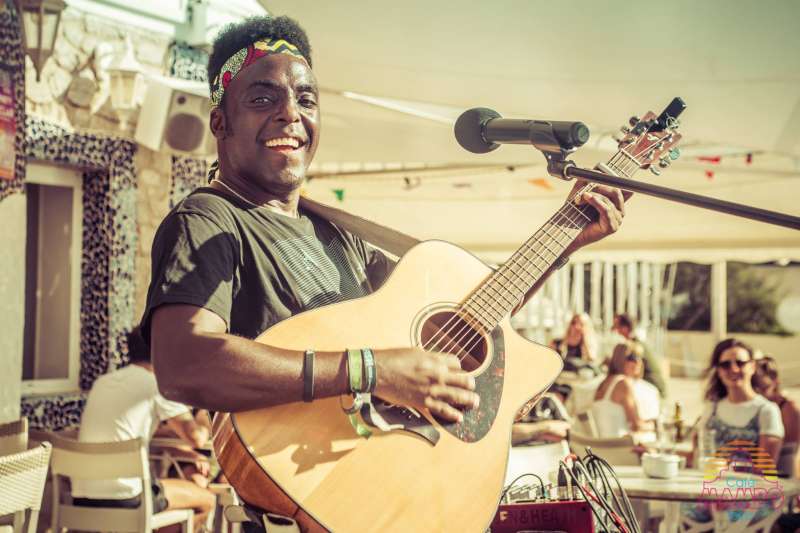 Ryan spreading his good vibes on a Sunny afternoon at Café Mambo in Ibiza in 2018
I myself, have just joined Twitch which has a growing musician and music fan community. I hear the engagement seems to be better on there and unlike Facebook, Instagram and YouTube, the cover songs for live musicians is part of what seems to be legally covered, as long as it's performed and created by the artist without using someone else's backing track etc. I've also just passed an audition and joined Sessions which was started by Tim Westergren, the founder of Pandora. Sessions is a live streaming platform only focused on musicians, whereas Twitch is primary known for gaming. 
Really pay attention to the legality of covers and do the research, especially on Facebook, Instagram and YouTube. I have a friend who already had his Facebook account deleted about 5 years ago for performing covers! You may have noticed the rise in the detection then penalising or deleting of cover songs, which is a shame as playing great songs is one of the best ways for artists and fans to enjoy and learn about great music. It's also a great way for artists to be discovered by younger generations, as the viral videos of late demonstrate (In the Air Tonight by Phil Collins and Fleetwood Mac's Dreams).
Ryan would draw a crowd and raise spirits by creating a chilled festival atmosphere when busking in London's Notting Hill
on Portobello Road. Pictured here sitting on his trusty battery powered Roland Street Cube
busking amp and red tambourine under his foot
Here's hoping 2020 ends on a better note than it started for us in the creative arts. Many people relied on all forms of art to stay comforted during a nightmare of a year amidst a global lock down. I urge music lovers to keep supporting the artists, even sharing and engaging with online posts is very helpful.
I am forever thankful to the musician who was singing Sam Cooke songs on Edinburgh's Rose Street many moons ago, for he inspired me to put my own voice out there, which changed everything.
As Manoj Arora wrote… "Coming out of your comfort zone is tough in the beginning, chaotic in the middle, and awesome in the end... because in the end, it shows you a whole new world! So make an attempt."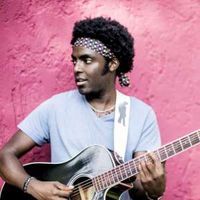 Ryan Koriya is a consultant who helps musicians and creative artists cut a skeleton key that will aid in unlocking the stubborn doors blocking the paths to their success in the modern arts.
Ryan is currently busking online via social media from his Sunny Bat Cave in Ibiza Spain under the name of I See Hearts (singing Passion Folk).